---
Tilray Stock falls as cannabis sector shrugs off MORE Act vote
NASDAQ:TLRY fell by 3.73% during Friday's trading session.
The MORE Act passes the floor vote in the House of Representatives.
Tilray announces its earnings call will be on April 6th, 2022.
NASDAQ:TLRY extended its losses for the week despite the MORE Act receiving a pivotal vote in the House of Representatives on Friday. Shares of TLRY fell by 3.73% and closed the trading week at $7.48. Stocks kicked the second quarter of 2022 on the front foot as all three major indices climbed during the first trading day of April. The first quarter was certainly one to forget for investors as it was the worst performance from US markets in over two years. On Friday, the Dow Jones added 139 basis points and the S&P 500 and NASDAQ rose by 0.34% and 0.29% respectively during the session.
The MORE Act finally made its way to a vote on the floor of the House of Representatives on Friday, and as expected, the vote passed to federally legalized cannabis. The vote still has to pass through the Senate where the Act stalled in 2020, and Wall Street isn't too positive on the prospects of the vote passing this time around either. If it is, cannabis and its product would be legal on a federal level, and those serving jail time for the possession of cannabis would likely get their records expunged for those charges.
TILRAY stock forecast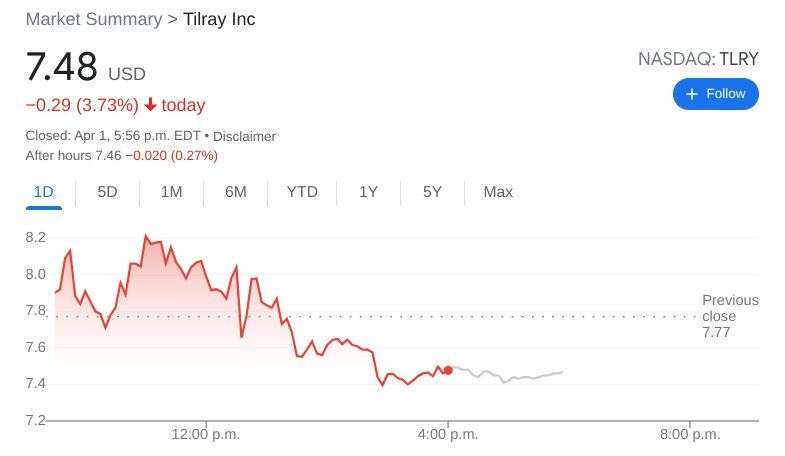 Earlier this week, Tilray also announced that it will be reporting its fiscal third quarter earnings on April 6th, 2022 before the markets open. Shares of TLRY closed the week down by 6.03%, as volatility surrounding the MORE Act vote hit the cannabis sector. Last earnings call, TIlray posted a positive net income and a 20% sequential rise in net revenues from the previous quarter.
Tilray Stock falls as cannabis sector shrugs off MORE Act vote
---
About Cannin: Your Cannabis Stocks Resource
78% of Cannin's fundamentals prove true within 30 days or less on 100+ recommendations over the past 2 years.
Cannin is your #1 trusted resource for cannabis stocks. Our global team of experts evaluates all emerging cannabis stock investing opportunities. In fact, we aggregate hundreds of hours of financial research and provide tips on the best cannabis stocks for 2021. 
Use Cannin as your resource for:
Market analysts expect the marijuana and hemp industry will have an annual value exceeding $75 Billion in the next decade. Is it too late to invest in marijuana stocks? No! This is the perfect time to invest.
Are you looking to buy stock in hemp companies or marijuana companies for 2021? If so, are you interested in new penny hemp stock companies? Or, looking for the best Canadian cannabis stocks to invest in? Maybe, you're looking to leverage the power of algorithmic stock trading to beat the cannabis market? We can help.
Are you interested in cannabis stocks like Curaleaf, Trulieve, Aurora Cannabis, Charlotte's Web, Canopy Growth, or Hemp Inc.?
Predict price movements of cannabis stocks several hours in advance with our proprietary algorithmic stock trading software.
+34% Gains in 2022

+56% Gains in 2021

+30% Gains in 2020

+49.8% Gains in 2019

Backtested since 2012
In fact, we're so confident you'll love our algotrading cannabis stock signals, we're willing to give you a one week risk-free trial to see it for yourself.
Profit from the best cannabis stocks – we'll show you how at cannin.com.