---
Similar to the Jeff Bezos moonshot yesterday, Hemp Stock HMPQ Soars 123% . This little-known hemp stock, HempAmericana Inc. (HMPQ) was ranked #2 by CanninBot on Monday. How did CanninBot identify this opportunity the day before this 23% surge for HMPQ?
On Monday, CanninBot discovered a profitable trade opportunity with HMPQ – HempAmericana, Inc. Tuesday evening, the stock achieved a mind-blowing 123.53% return in 1 day! But – How Did CanninBot Know?
Related:Little-known Biotech Stock Up 149%
Related: Cannin's Top 3 Cannabis Stocks for July
What is CanninBot and How did it Identify this Opportunity?
CanninBot uses machine learning to evaluate 450 cannabis stocks based on the 10 best technical indicators. You'll receive daily alerts with a ranking for the 20 strongest stocks, for that specific day, allowing you the best opportunity to make serious potential gains.
What is HempAmericana, Inc?
HempAmericana, Inc (HMPQ) was founded six years ago by Viet Nam Era Veteran Salvador Rosillo, an Artillery Surveyor Forward Observer. Mr. Rosillo's vision was to create a company dedicated to producing the highest quality hemp products. Today, HempAmericana produces full spectrum CBD oils with nothing taken out and nothing added during the manufacturing process to ensure that our customers receive the maximum benefit from taking our CBD.
The Company's 17,000 square foot manufacturing facility located in Augusta Maine is home to one of Vitalis's first CO2 massive extractors. The facility took two years to complete and was literally built from the ground up. The goal of each piece of equipment the Company acquired from extraction to bottling had quality in mind at every step.
HMPQ's supersized supercritical CO2 extraction system, centrifugal partition chromatography refinement technology, and mechanized fully-automated CBD bottling system allows the company to continue to grow and places us in a position to process CBD for others too.
Currently the Company's CBD oil business uses the brand designation, "CBD Oleum" – 100% made and manufactured in the USA.
Market Opportunity for HempAmericana
The global cannabidiol market size was valued at USD 2.8 billion in 2020 and is expected to expand at a compound annual growth rate (CAGR) of 21.2% from 2021 to 2028. Due to its healing properties, the demand for cannabidiol (CBD) for health and wellness purposes is high, which is the major factor driving the market growth. In addition, the rising acceptance and use of products due to government approvals is a major factor expected to boost production for CBD-infused products.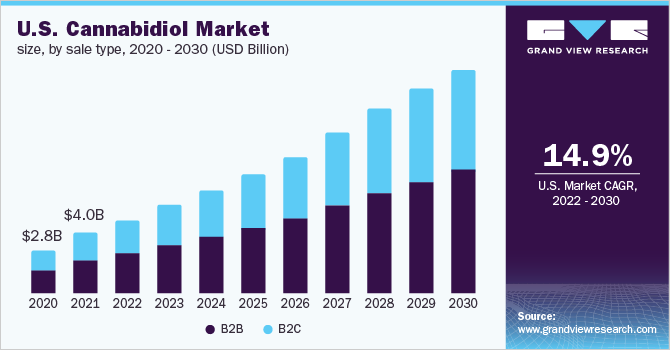 To learn more about this report, request a free sample copy
Out of all cannabinoids, cannabidiol is most widely used for therapeutic reasons due to the lack of psychoactive effects. In many medical applications, cannabidiol oil is used, such as anxiety and depression treatment, stress relief, diabetes prevention, pain relief, cancer symptom relief, and inflammation. Due to the increasing adoption of CBD-based products to treat ailments, the global cannabidiol market is anticipated to grow at a lucrative rate over the forecast period.
Increasing awareness of cannabidiol's therapeutic benefits has influenced a buyer to buy cannabidiol products, regardless of their cost. As these have a greater profit margin, commercial retailers are now focusing on selling cannabis-based products. Numerous health and wellness retailers are offering CBD-based products, such as Rite Aid, CVS Health, and Walgreens Boots Alliance. In addition, CVS Health decides to offer CBD topicals all over its 800 stores and Walgreens Boots Alliance is selling CBD-containing topicals across 1500 of its stores in the U.S.
Related: Up Over 80% this Week – Is Core One Labs a Buy?
However, the COVID-19 pandemic has caused unprecedented lockdowns all around the world, collapsing daily operations and changing consumer behaviors in nearly every industry. As the response to COVID-19 ramps up, retail stores have shut down. The market started experiencing a shortage in supply due to the nationwide shutdown of transportation and manufacturing in major raw material manufacturing countries, such as China and India. In addition, due to supply chain disruptions in the U.S., the supply of other raw materials has been limited, which is disrupting the manufacturing, and in turn, the supply chain of CBD consumer health products.
What Other Trading Opportunities Has CanninBot Identified this Week?
On Wednesday, CanninBot discovered a profitable trade opportunity with Vancouver-based Core One Labs (CLABD) when it was trading at only $2.00/share. Last night, the stock was valued at $4.99/share for a mind-blowing 149.5% return in 5 days!
Who are the Experts Behind Cannin.com?
Since 2017, Cannin has been on a mission to help our members profit from investing in cannabis stocks. Cannin's global team of analysts, software engineers, and industry veterans provide the tools and information to capitalize on this rapidly growing industry.
Related: Hemp Stock Quotes | Marijuana Stock Quotes
In fact, 78% of Cannin's fundamentals prove true within 30 days or less on 100+ recommendations over the last 3 years. 
Hemp Stock HMPQ Soars 123%
---
Cannin Investment Group: Your Hemp Stocks Experts
Cannin.com is your trusted resource for top hemp stocks. Our team of financial experts evaluates all emerging hemp stock investing opportunities. We aggregate hundreds of hours of market research to provide tips on the best hemp stocks for 2021. 
Use Cannin as your resource for:
Is it too late to invest in hemp stocks? No! This is the perfect time to invest.
Wall Street analysts expect the global cannabis industry will have an annual value exceeding $75 Billion in the next decade. The time to invest in hemp stocks is now. 
Are you interested in the best hemp stocks for 2021 like HempFusion, Inc., Charlotte's Web, Canopy Growth, or Hemp Inc.?
Are you looking to buy stock in hemp companies or stock in cannabis companies in 2021? Interested in penny hemp stocks? Interested in leveraging the power of algorithmic stock trades to profit from hemp stocks? Looking for the best Canadian cannabis stocks? We can help.
Predict price movements of hemp stocks several hours in advance with our proprietary algorithmic stock trading software.
+30% Gains in 2020

+49.8% Gains in 2019

Backtested since 2012
At Cannin, we're so confident you'll love our algotrading hemp stock signals, we're willing to give you a one-month risk-free trial to see it for yourself.
Profit from the best hemp stocks – we'll show you how at cannin.com.